Flounder
This species can be targeted during the fall months when they move into the shallow water passes and along the banks. They range in size from 2-6lbs., and some days you can easily catch your limit.
Flounder Fishing Charter
Flounder are a fish that many fishermen find difficult to catch, so hooking one may be the highlight of your trip. Flounder are abundant in the fall, typically from October to November. These fish often gather in the same areas, increasing the possibility of catching multiple. At Super Strike Charters, our captains know techniques for locating and catching Flounder from years of captaining fishing charters in Venice, Louisiana.
When you reel in a fish on your inshore fishing charter, there are a few things you can look for to identify if it is a Flounder. Male flounder are small, but the females grow larger and travel longer distances. You can identify Flounder by the flat body, eyes on one side of the body, and the white underside with a dark top.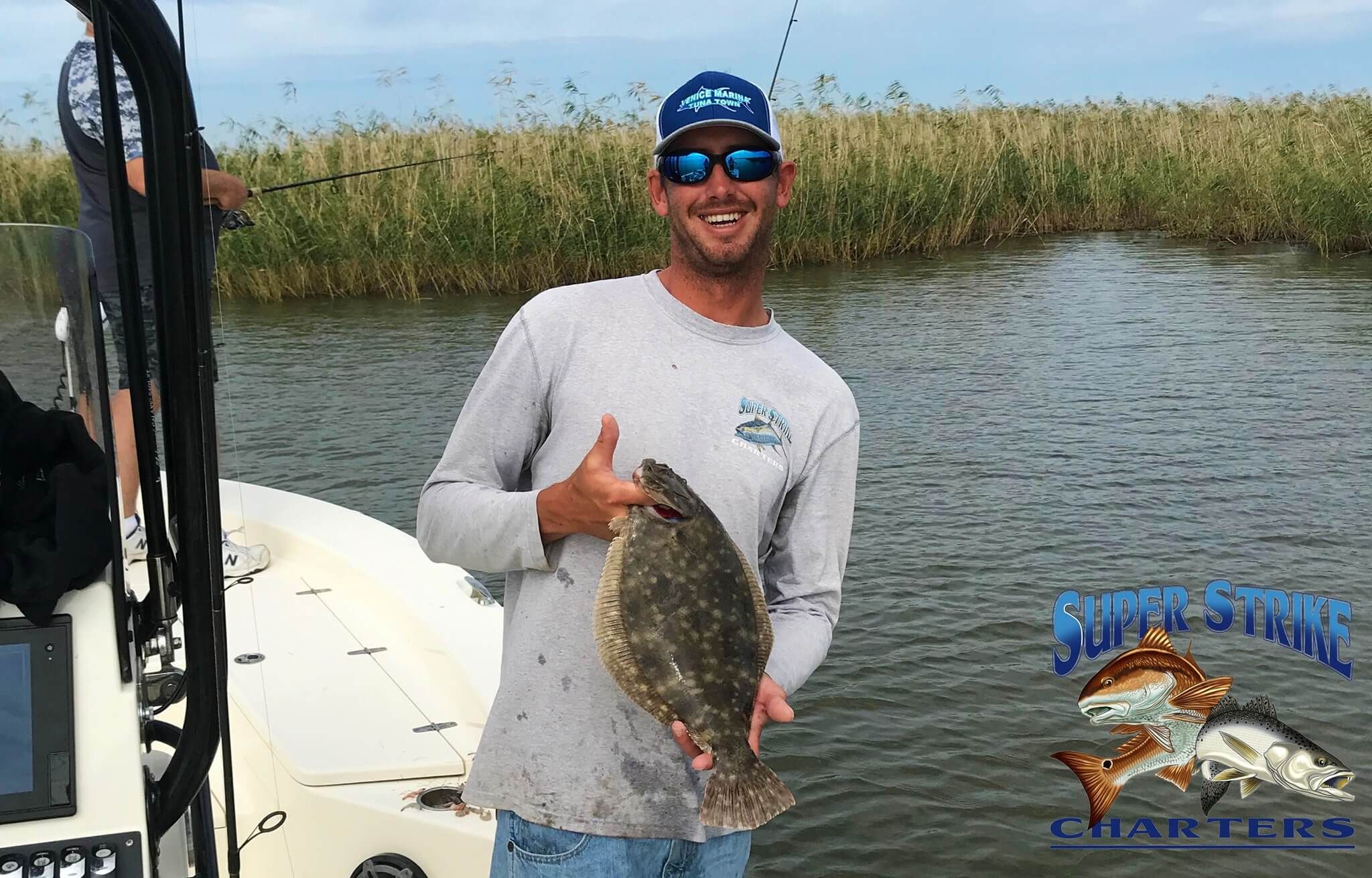 Book your fishing charter with Super Strike Charters
A highly predatory fish, flounder are strategic in choosing a spot to wait for prey to float by. Using a strategy of allowing your bait to slowly drift along the bottom, at most a foot high, with the current until you feel a bite. When that first bite happens, start slowly reeling in your line to draw out the flounder. These strikes can sometimes be difficult to feel, so if the bait stops moving for some reason, you may want to set the hook. If you are looking for a day on the water trying to nab one of these tasty fish, book your inshore fishing charter with us!
Book Your Flounder Charter Trip Below!
About Flounder
If you want to make a catch like no other, these flat fish with amazing camouflage abilities are the perfect target. Female flounder average about 28" while males typically only reach around 18". Mature flounder can be found from saltwater to high up the Mississippi river in freshwater. These fish prefer soft sediment bottoms and favor slight drop-offs where prey may drift by on the current.
Flounder are a delectable choice to add to your meal, with a wide range of preparations to choose from. Most anglers make the mistake of presenting bait too quickly, making this fish the patient man's game. If you manage to hook a flounder, your patience will be rewarded with a delicious treat. On inshore fishing charters with Super Strike Charters in Venice, Louisiana, you will have the opportunity to hook this unique fish.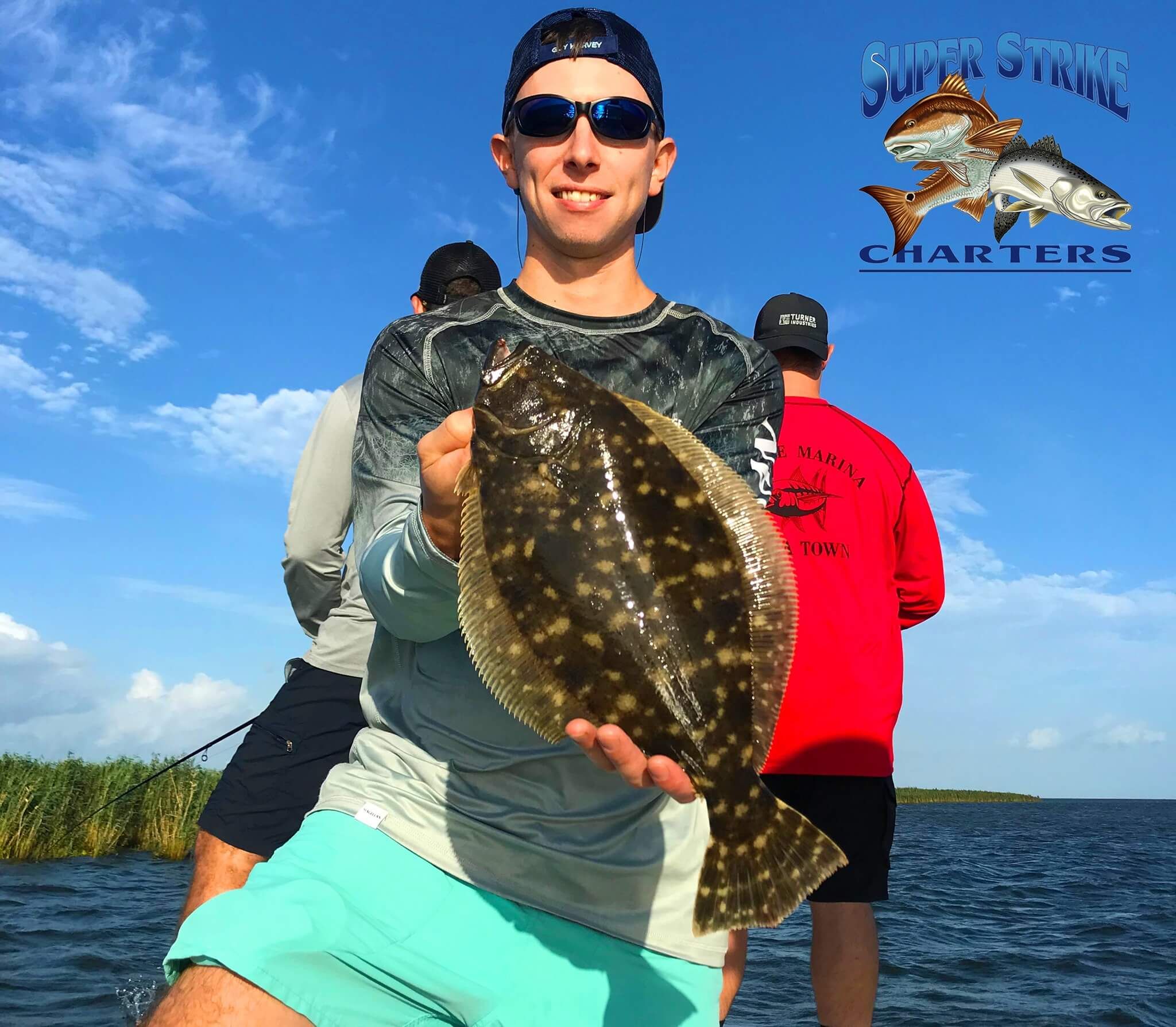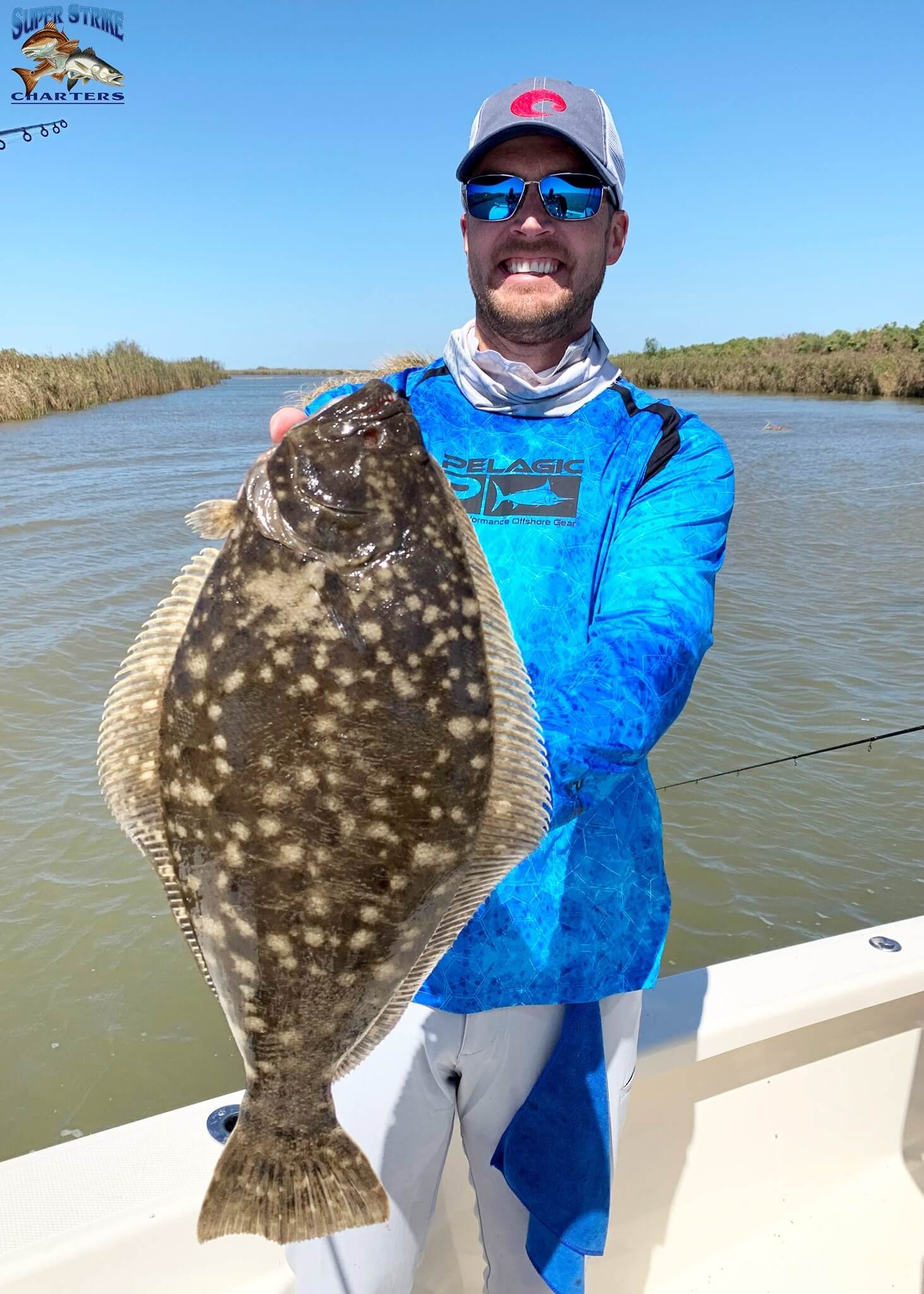 Strategies for catching Flounder
Aside from following common sense and fishing near the bottom, there are a few techniques to increase your odds at catching flounder. Flounder normally face into the current, so cast the weighted bait up current and let it slowly come back to you with the tide. Flounder fishing is a patient man's game, so take your time to catch plenty of fish.
Bait and lures recommended for best chances at catching Flounder include:
Finger mullet
Large live shrimp
Mud minnow
Pinfish
Whitebait
1 to 2 1/2 ounce feather jig
Scented shrimp