Swordfish Fishing Charter
Swordfish, the strongest member of the billfish family, put up a great fight once hooked. The Swordfish high season is April to July but can be caught year-round. Many anglers don't believe in catching Swordfish during the day, but we have proved them wrong. At Super Strike Charters, our captains know techniques for locating and catching Swordfish from years of captaining fishing charters in Venice, Louisiana.
When you reel in a fish on your deep sea fishing charter, there are a few things you can look for to identify if it is a Swordfish with a bill that is rounder and much longer than that of a Blue Marlin and a much larger crescent shaped tail (caudal) fin, these fish are a spectacle. Swordfish have large eyes, no teeth, a dark silvery grey-blue/brown upper body, and a cream-colored belly.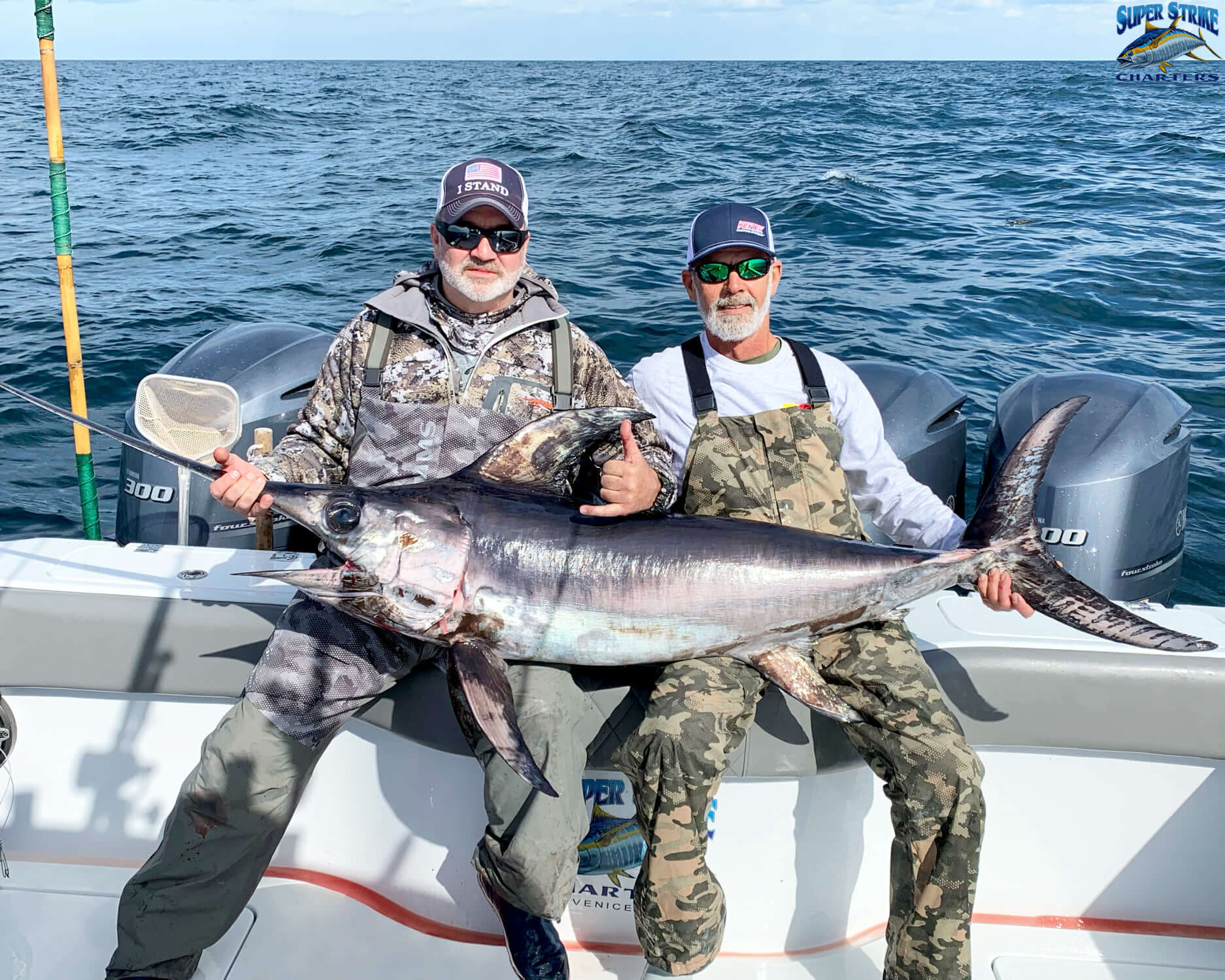 Book your fishing charter with Super Strike Charters
One of the most aggressive fish, Swordfish, are known to bludgeon and stun their prey before circling back to eat. Swordfish have a brutish personality that will put your endurance and will to the test once hooked. These fish are known to swim under the boat and create problems for fishermen. If you are looking for a day at sea trying to nab one of these strong and tasty fish, book your deep sea fishing charter with us!
Book Your Swordfish Charter Trip Below!
About Swordfish
If you want to make a catch worth showing off, these massive fish with an elusive reputation are just the thing. Ranging from 50-200 pounds, Swordfish are known to reach up to 1,200 pounds and 177 inches. Swordfish are pelagic fish, meaning they live in the pelagic zone, not close to the bottom or the top.
Anglers often praise swordfish for their brutish demeanor and meaty taste. This fish fights somewhere between a tuna and a marlin, and their perceived docility will change once they reach the warm waters of 300 ft depth range. On deep-sea fishing charters with Super Strike Charters in Venice, Louisiana, you will have the opportunity to hook this powerful fish.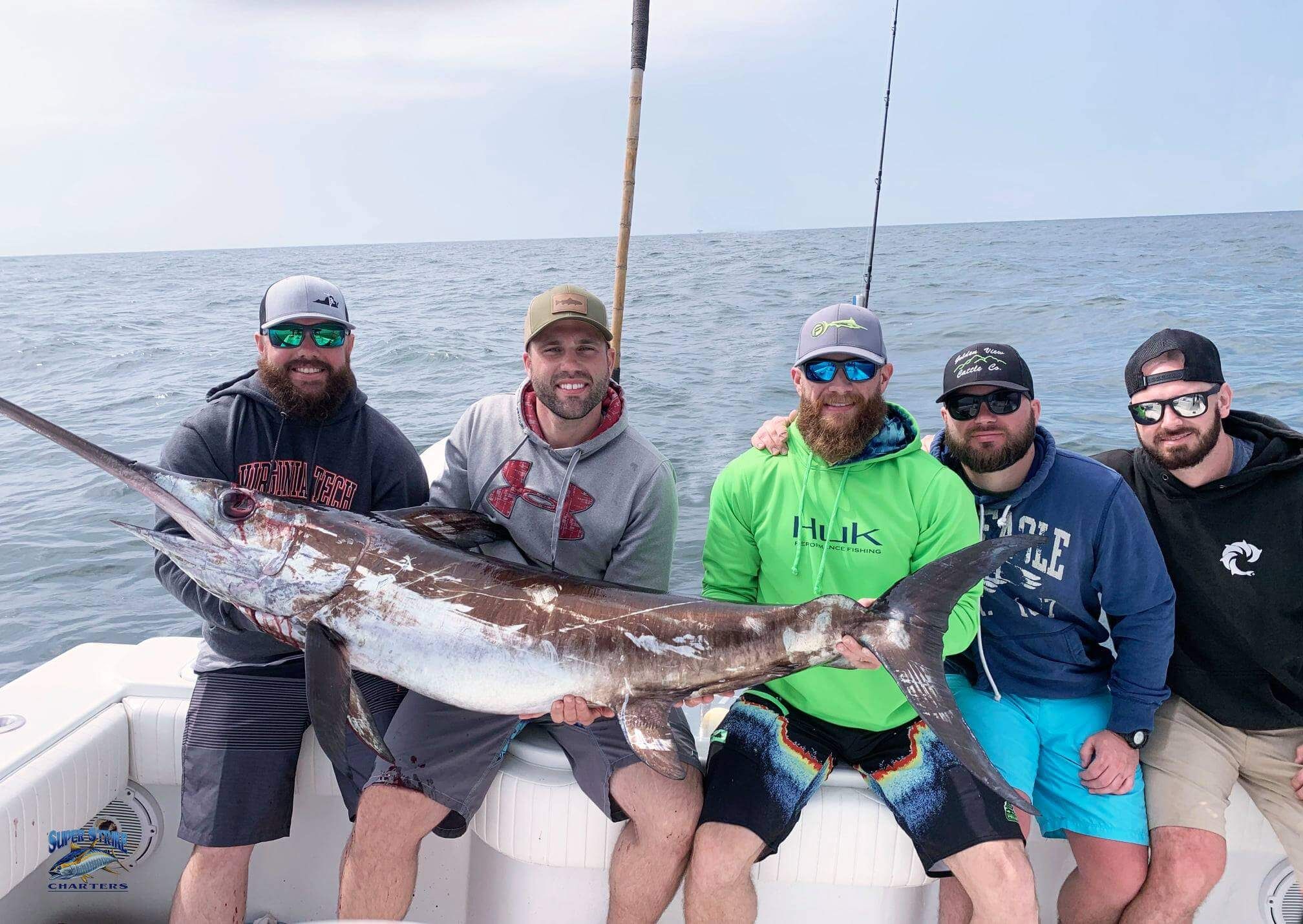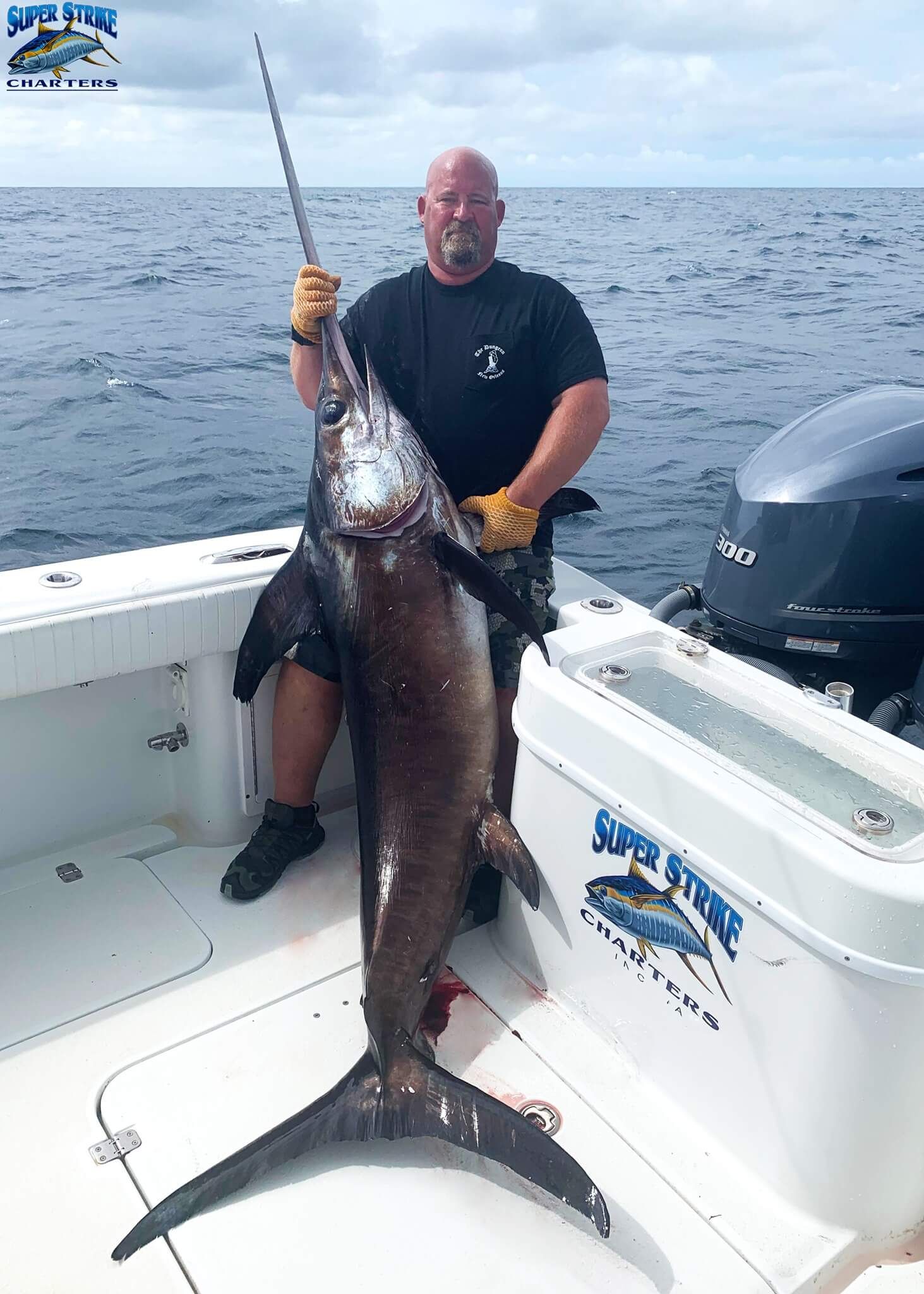 Strategies for catching Swordfish
The Swordfish bite is often a subtle tap-tap or single solid thump. The key to hooking one of these fish is to watch the tips of the rods and learn the difference between the methodical movement caused by the tipping boat and the bite. However, Swordfish hooking techniques vary depending on the class of fish and their mood.
Bait and lures recommended for best chances at catching Swordfish include:
Squid
Bonito
Mahi bellies
Tinker mackerel
Live blue runner
Artificial stuffed squid
Ballyhoo