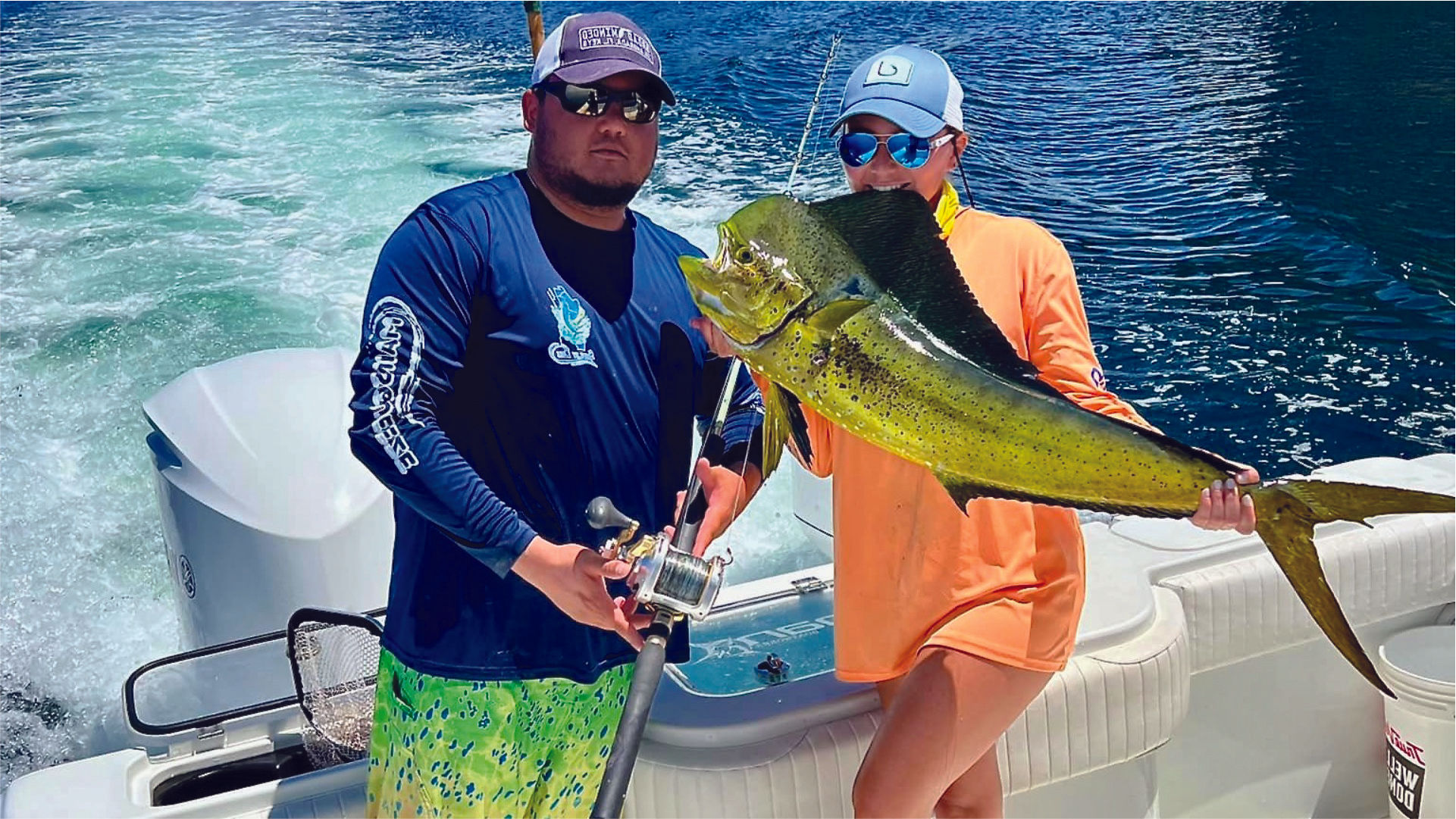 Mahi-Mahi
The Mahi-Mahi is a visually stunning fish. Its aggression is the only thing that rivals its beauty. This fish is a blast to pull into the boat after a long fight.
Mahi-Mahi Fishing Charter
Mahi-Mahi, also known as Dorado, put up a great fight once hooked. Mahi-Mahi are abundant in the spring and summer, typically from April to August. The Mahi-Mahi travel in schools, increasing your odds at hooking one. At Super Strike Charters, our captains know techniques for locating and catching Mahi-Mahi from years of captaining fishing charters in Venice, Louisiana.
When you reel in a fish on your deep sea fishing charter, there are a few things you can look for to identify if it is a Mahi-Mahi. Bull dorado are male fish with a square head, and 'cows' are their female counterpart. You can identify Mahi-Mahi by the bony crest on the front of their head, their bright blue, yellow, and greenside with a yellow underbelly, and dorsal fin from the eye to the caudal fin.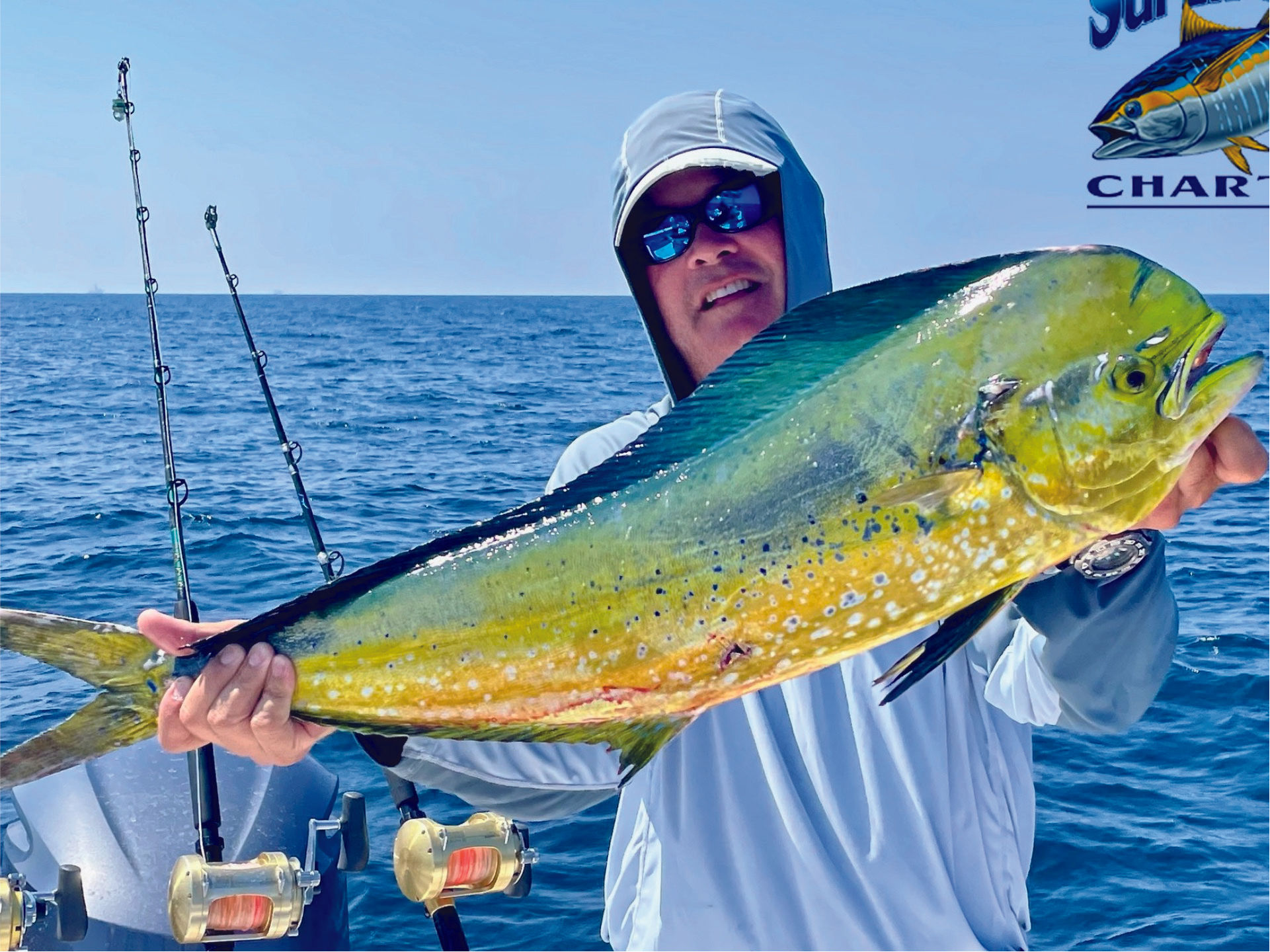 Book your fishing charter with Super Strike Charters
One of the tastiest fish, Mahi-Mahi, are known as the "chicken-of-the-sea." These beautiful fish will not disappoint if you hook one to bring home. There is nothing more exciting than seeing the neon green and yellow light up as Mahi-Mahi zip through the water and make exhilarating jumps as you reel in your line. If you are looking for a day at sea trying to nab one of these beautiful and tasty fish, book your deep sea fishing charter with us!
Book Your Mahi-Mahi Charter Trip Below!
About Mahi-Mahi
If you want to make a catch worth showing off, these bright green and yellow fish are perfect for beginners and experienced fishermen. Ranging from 15-30 pounds, Mahi-Mahi can swim anywhere from 50 to 57 knots. Mature Mahi-Mahi can be found offshore but often travel inshore in the summer months, where young Mahi-Mahi are plentiful.
Mahi-Mahi are a popular menu item in the summer months when these fish are abundant. As beautiful as they are tasty, this fish with a name that means "strong-strong" will put up a fight to remember and provide the perfect opportunity for a photo op. On deep-sea fishing charters with Super Strike Charters in Venice, Louisiana, you will have the opportunity to hook this colorful fighter.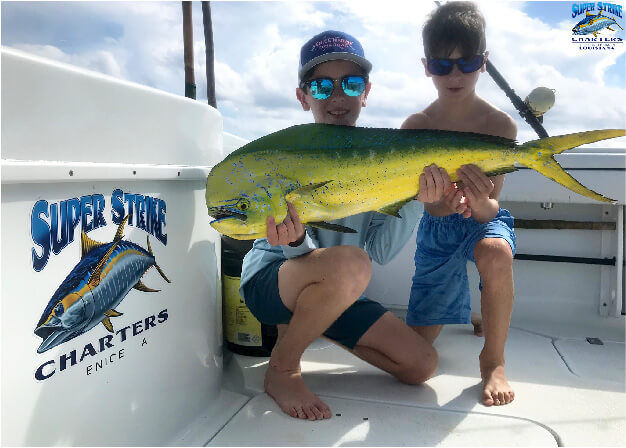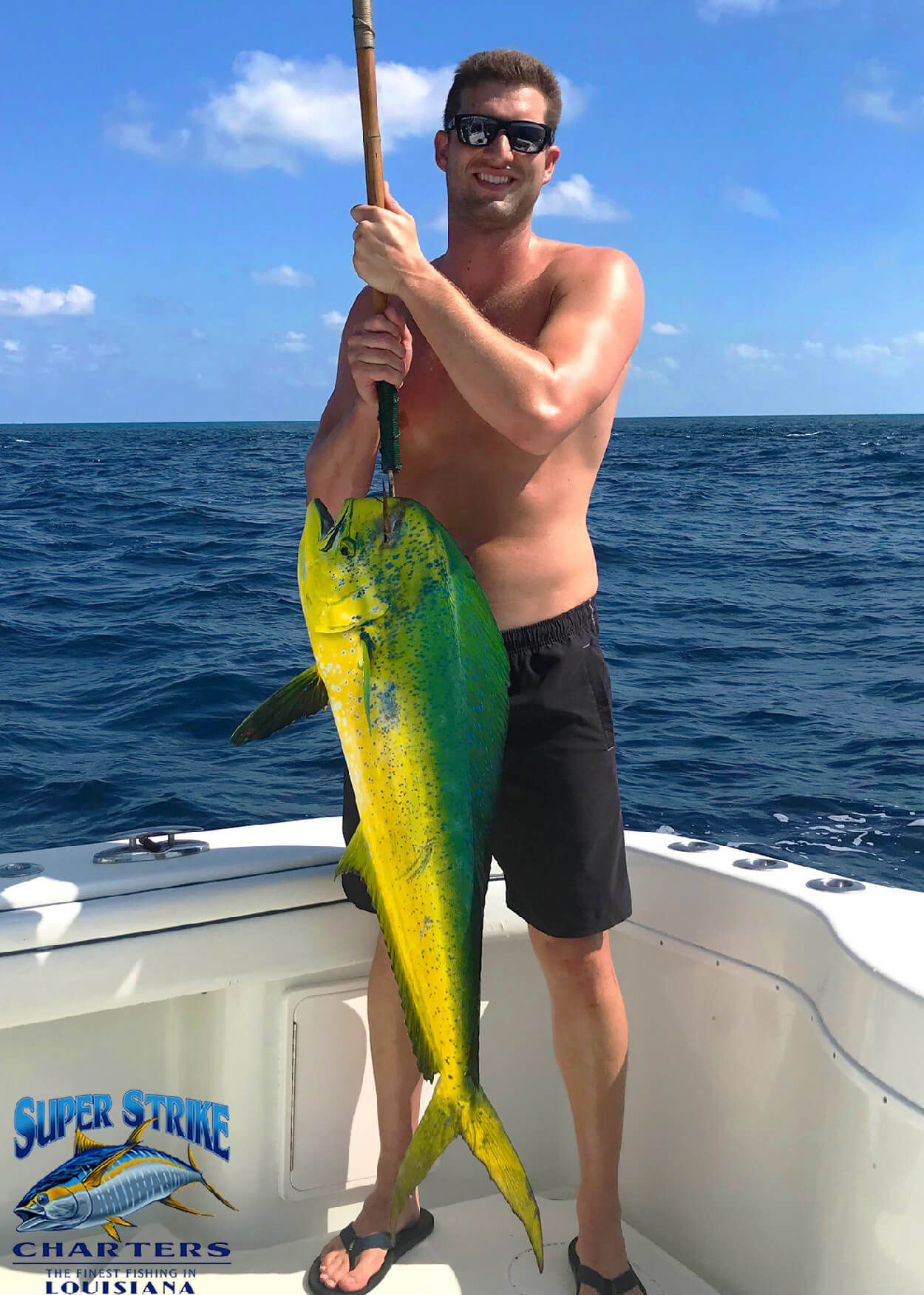 Strategies for catching Mahi-Mahi
Many fishermen watch for birds that follow schools of fish to locate Mahi-Mahi. These fish travel in schools and often refuse to leave behind a comrade that has been hooked. This provides the opportunity for everyone to hook one of the most stunning fish in the ocean.
Bait and lures recommended for best chances at catching Mahi-Mahi include:
Ballyhoo
Cut fish of all varieties
Squid Diving plugs
Soft plastic jigs
Artificial squid
Spreader bars
Daisy chains