Red Snapper
The Red Snapper season is June 1st through August 19th in US Federal Waters. These dates fill up quickly. Be sure to book your deep sea fishing charter in advance to guarantee your spot! This season could be open longer than what we have listed, please discuss the dates when booking your charters.
Red Snapper Fishing Charter
Red Snapper, more commonly referred to as just snapper, are almost cartoon-like when pulled out of the water. The Red Snapper season changes yearly, currently this season it is June 1st through August 19th, 2022. Many of these fish can be found in the same areas and don't often travel to new homes. At Super Strike Charters, our captains know techniques for locating and catching Red Snapper from years of captaining fishing charters in Venice, Louisiana.
When you reel in a fish on your deep sea fishing charter, there are a few things you can look for to identify if it is a Red Snapper. They have red/pink bodies getting lighter towards their bellies and red eyes. Red Snappers' top and bottom jaw are usually equally as long, with the bottom sometimes protruding out slightly more.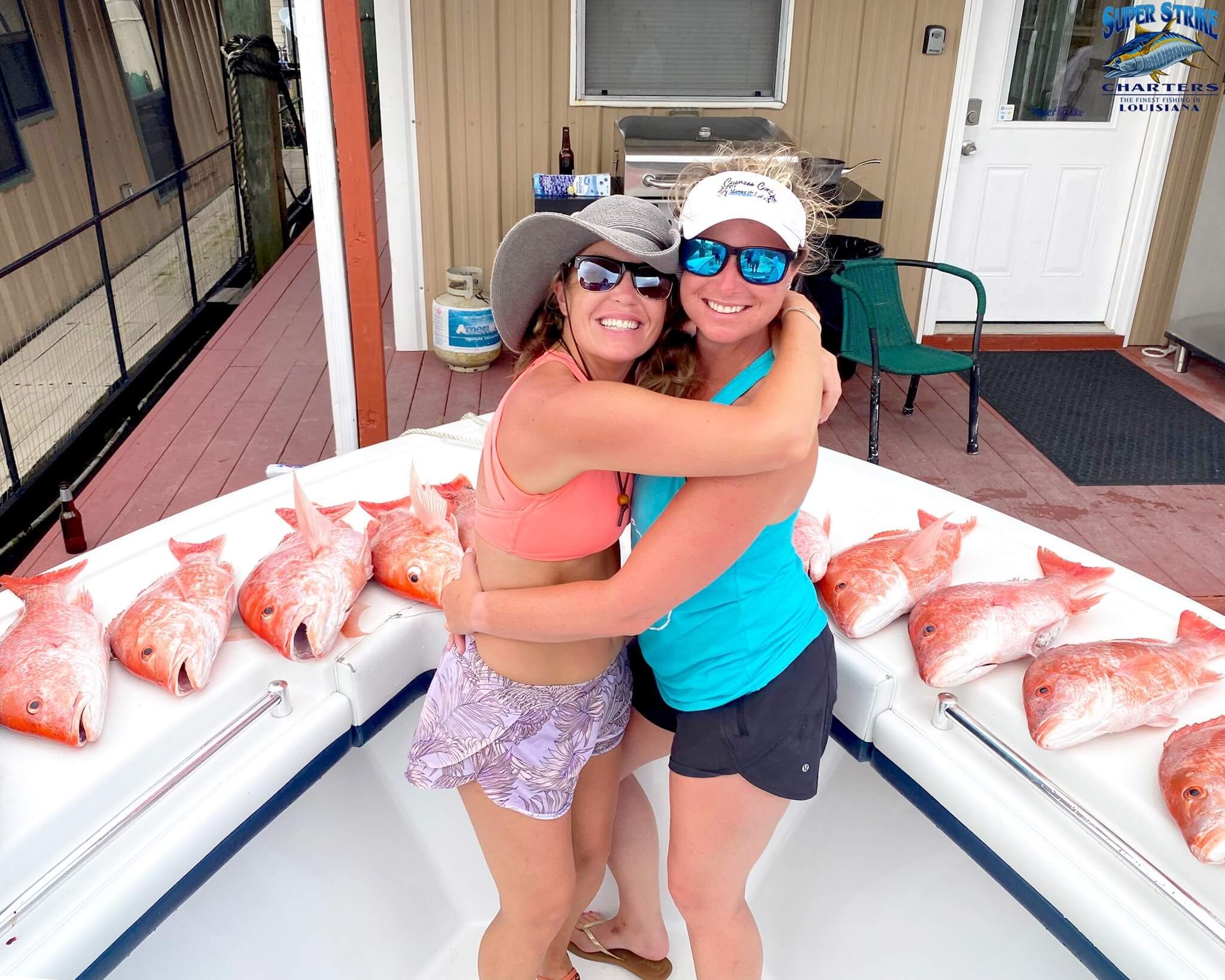 Book your fishing charter with Super Strike Charters
With such a short season in the summer, make sure to book your Red Snapper deep sea charter now to catch one of the tastiest fish in the sea. The best red snapper fishing is in Venice, Louisiana. If you are looking for a day at sea trying to nab one of these beautiful and tasty fish, book your deep sea fishing charter with us!
Book Your Red Snapper Charter Trip Below!
About Red Snapper
If you want to make a catch worth showing off, these ruby red fish can be a challenge for any angler, no matter the experience. Red Snapper can grow to over 40 pounds, with most common sizes being 4 to 6 pounds, and live for 57 years. These large snappers can be found in waters 30 to 600+ feet deep and are usually over structures.
Red Snapper are popular for anglers looking for a great fighting and eating fish. These fish are picky eaters, so your best chances are using live bait unless you don't mind hooking other species of fish. On deep-sea fishing charters with Super Strike Charters in Venice, Louisiana, you will have the opportunity to hook this stunning fish.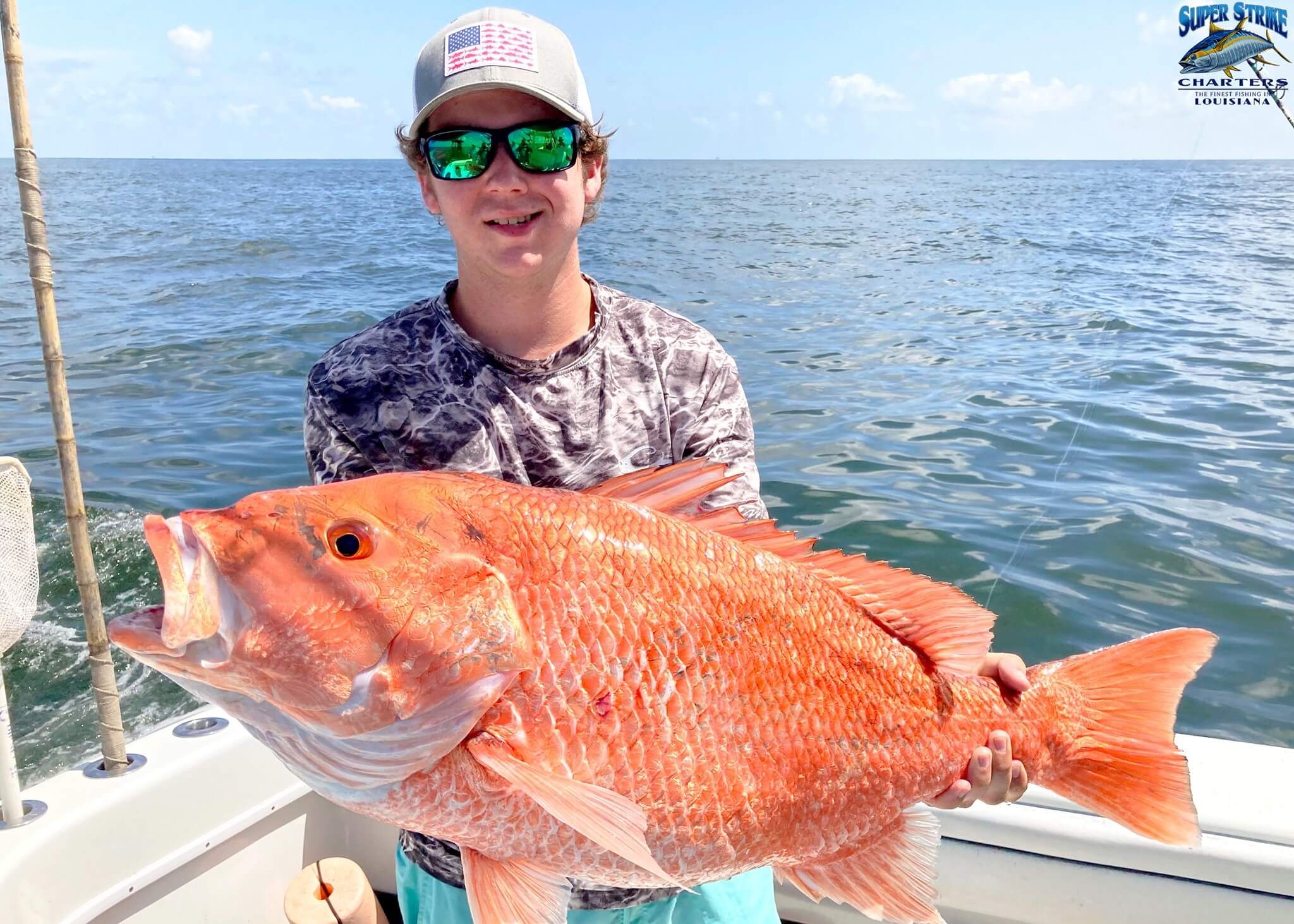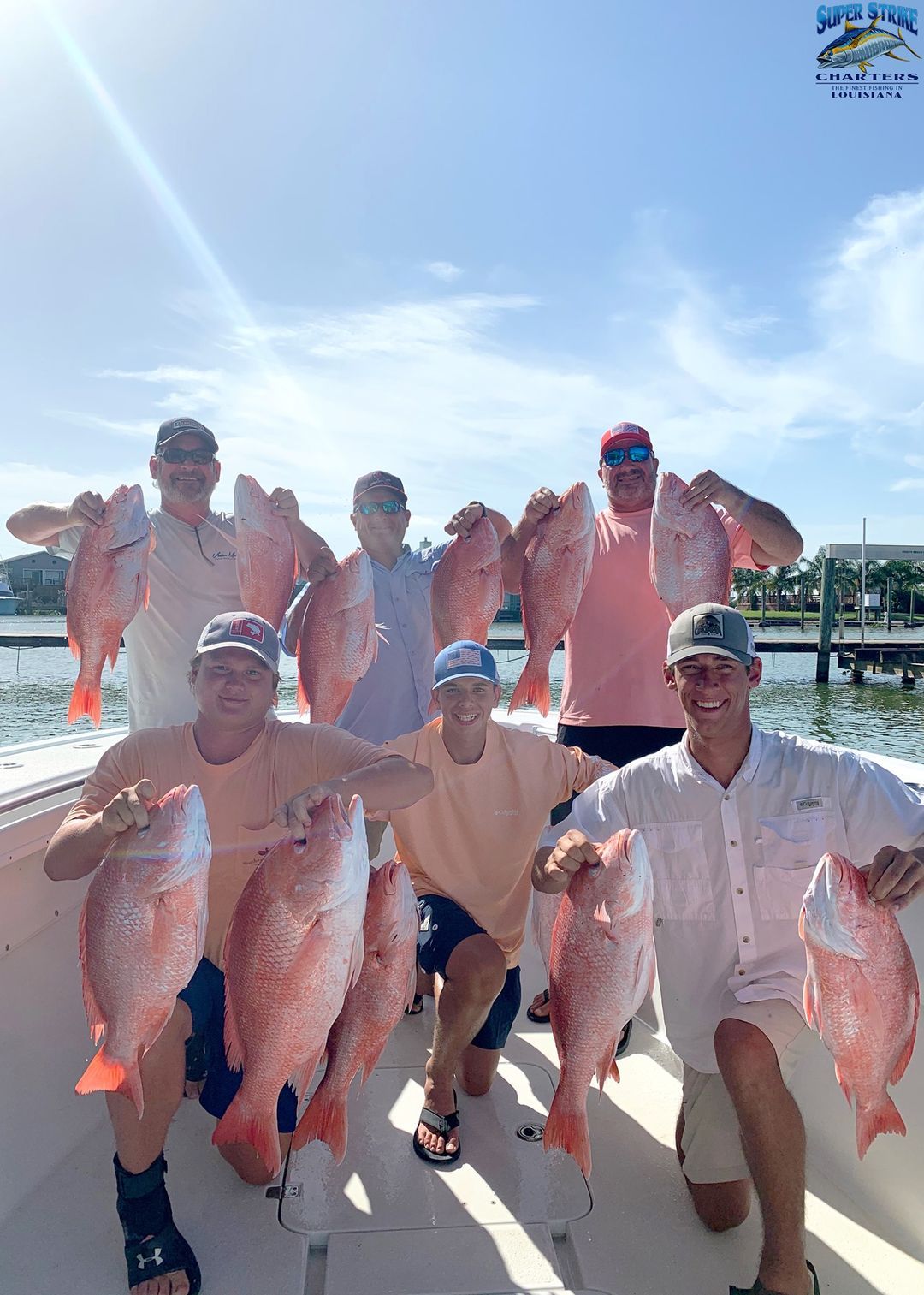 Strategies for catching Red Snapper
Red Snapper gather around underwater structures in large numbers and are creatures of habit. Once you find a location where the Red Snapper game is good, mark it so you can return and continue fishing it. This provides the opportunity for everyone to hook one.
Bait and lures recommended for best chances at catching Red Snapper include:
Shrimp
Worms
Squid
Octopus
Crab
Spoons
Soft baits